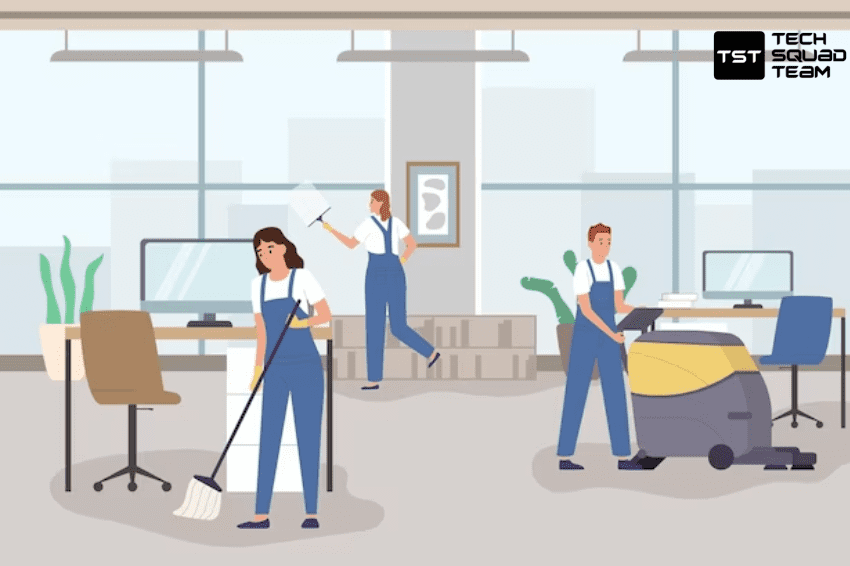 When it comes to hiring cleaners for your commercial office in McKinney, making the right choice is crucial. The cleanliness and appearance of your workspace play a significant role in the impression you make on clients and employees. To ensure you find the best commercial cleaning company, here are seven essential questions you should ask.
  1. What Services Do You Offer for Commercial Cleaning in McKinney?
Before hiring a commercial cleaning company, it's essential to understand the range of best McKinney cleaning services they offer. Inquire about specific services such as janitorial services, deep cleaning, floor care, and any specialized services that your office may require.
  2. Are Your Cleaners Trained and Experienced?
The expertise and training of the cleaning staff are crucial. Ask about the qualifications and experience of the cleaners who will be servicing your McKinney office. Experienced professionals are more likely to deliver top-quality results.
  3. What Cleaning Products and Equipment Do You Use?
It's important to know the type of cleaning products and equipment a company uses. Inquire about Eco-friendly cleaning products, as well as the latest cleaning technology and equipment. Using advanced tools and green cleaning solutions can significantly impact the quality of service.
 4. Do You Have a Customized Cleaning Plan for My Office?
A one-size-fits-all approach may not be suitable for your McKinney office. Ensure the cleaning company can provide a customized cleaning plan that caters to the specific needs of your workspace, taking into account the layout, traffic, and cleaning requirements.
 5. What Health and Safety Measures Do You Implement?
In today's world, health and safety are paramount. Ask about the health and safety protocols the cleaning company follows, particularly in light of COVID-19 concerns. Ensuring your workspace is clean and safe for employees and clients is essential.
 6. Can You Provide References or Case Studies for McKinney Businesses You've Served?
A reputable commercial cleaning company should be able to provide references or case studies from McKinney businesses they've serviced. This allows you to gauge their track record and the satisfaction of their clients.
  7. What's Your Pricing Structure for Commercial Cleaning in McKinney?
Understanding the pricing structure is critical. Ask for a detailed breakdown of costs and the payment structure. Ensure there are no hidden fees and that the pricing aligns with your budget.
Frisco Brothers Cleaning: Your One-Stop Solution for All Your Cleaning Needs
At Frisco Brothers Cleaning, we understand that our clients have diverse cleaning requirements. That's why we've dedicated ourselves to being your one-stop solution for all things clean. Whether you need residential cleaning, commercial cleaning, or specialized services, we have everything you need to ensure a spotless and hygienic environment.
1. Residential Cleaning Services
Our residential cleaning services cater to the unique needs of homeowners. Whether it's routine house cleaning, deep cleaning, or post-construction cleanup, we have the experience and expertise to make your home shine. From kitchens to bathrooms, bedrooms to living areas, we leave no corner untouched.
2. Commercial Cleaning Services
For businesses in need of impeccable cleanliness, our commercial cleaning services have you covered. We offer tailored solutions for offices, medical facilities, retail spaces, and more. With our trained professionals and specialized equipment, we ensure your workspace remains clean, safe, and inviting for both employees and clients.
3. Specialized Cleaning Services
Sometimes, your cleaning needs go beyond the routine. That's where our specialized cleaning services come into play. Whether you require floor care, carpet cleaning McKinney, or post-event cleanup, we have the expertise to handle it all. We use industry-leading techniques and equipment to deliver exceptional results.
4. Green Cleaning Practices
We're committed to eco-friendly cleaning practices. Our use of environmentally friendly cleaning products and equipment not only ensures the safety of your space but also reduces our impact on the environment. With Frisco Brothers Cleaning, you get a clean space that's good for both you and the planet.
5. Trained and Experienced Professionals
Our team is comprised of trained and experienced cleaning professionals who take pride in their work. They understand the nuances of cleaning different spaces, ensuring that each task is completed to perfection. You can trust that your cleaning needs are in the hands of experts.
6. Health and Safety Prioritization
We prioritize the health and safety of our clients. In an era where cleanliness is paramount, our cleaning protocols are designed to keep your environment safe and sanitized. Our team follows strict safety guidelines, especially in light of COVID-19 concerns.
7. Customized Cleaning Plans
Your space is unique, and so are your cleaning needs. We create customized cleaning plans that consider the specific requirements of your home or business. This ensures that you get the exact cleaning services you need, without paying for unnecessary extras.
8. Client-Centric Approach
Client satisfaction is our top priority. We believe in open communication and adapt our services to meet your specific needs. Our goal is to build long-term relationships with our clients by consistently delivering exceptional results.
At Frisco Brothers Cleaning, we have everything you need to maintain a clean, safe, and inviting space. Whether it's your home or your business, trust us to provide top-notch cleaning services that exceed your expectations. Contact us today to discuss your unique cleaning requirements and let us be your trusted partner in cleanliness.
Frisco Brothers Janitorial Service
Average rating:
0 reviews