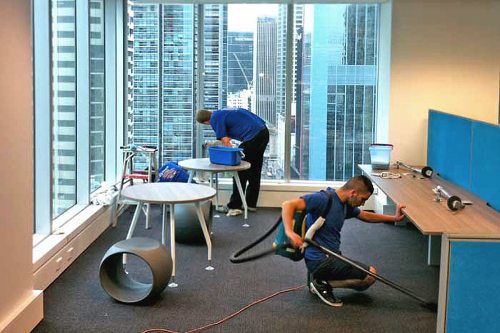 As the saying goes, you never get a second chance to make a first impression. This is especially true when it comes to your business's appearance. While many business owners focus on keeping the interior of their building clean and presentable, the exterior is just as important. One often-overlooked aspect of a building's exterior is the windows. Dirty, streaked, or smudged windows can give potential customers the impression that the business is unkempt and unprofessional. That's where commercial window washing comes in.
 The Importance of Clean Windows for Curb Appeal
When it comes to a business's curb appeal, clean windows are crucial. According to a study by The Cleaning Industry Research Institute, 68% of customers are more likely to enter a building that has clean windows. Additionally, the study found that customers are more likely to associate clean windows with a business's attention to detail and overall cleanliness. On the other hand, dirty windows can create a negative impression and drive customers away. For example, imagine a potential customer walking by a restaurant with dirty, smudged windows. They may assume that the restaurant's kitchen is just as dirty and unkempt, and decide to eat elsewhere.
 Frisco Janitorial's Commercial Window Washing Services
At Frisco Janitorial, we understand the importance of clean windows for a business's image. That's why we offer professional commercial window washing services for businesses in Collin County and surrounding areas. Our team of experienced window cleaners use state-of-the-art equipment and eco-friendly cleaning solutions to ensure your windows are sparkling clean and streak-free. We offer flexible scheduling to minimize disruption to your business, and our services are affordable and cost-effective. Don't let dirty windows harm your business's image – contact Frisco Janitorial today to get an estimate for our commercial window washing services.
Cost-effectiveness of Commercial Window Washing vs DIY Methods
It's important to consider the cost-effectiveness of commercial window washing compared to DIY methods. While it may seem like a cost-saving measure to wash your business's windows yourself, it may not be the most efficient use of your time and resources. DIY methods often result in streaks or missed spots, which can be unappealing to customers and give the impression that your business is not well-maintained.
On the other hand, professional window cleaning services are designed to provide a streak-free shine and ensure that every corner of your windows is thoroughly cleaned. Additionally, commercial window washing services often offer package deals or discounts for regular cleaning, which can make them more cost-effective in the long run. When you consider the value of your time and the potential loss of customers due to dirty windows, investing in professional window cleaning services is a smart business decision.
In conclusion, commercial window washing can significantly improve the curb appeal of your business, making it more attractive to potential customers. Not only does it enhance the appearance of your establishment, but it also helps to maintain the integrity of your windows, preventing damage and extending their lifespan.
While some business owners may consider DIY window washing to save on costs, it often results in streaks and missed spots that can be unappealing to customers. Trusting a professional commercial window washing service like Frisco Janitorial can ensure that your windows are spotless and streak-free.
Don't hesitate to contact us today for a free estimate on our commercial window washing services and enhance the curb appeal of your business.
Don't wait – click here to get started: https://www.friscojanitorial.com/estimates/