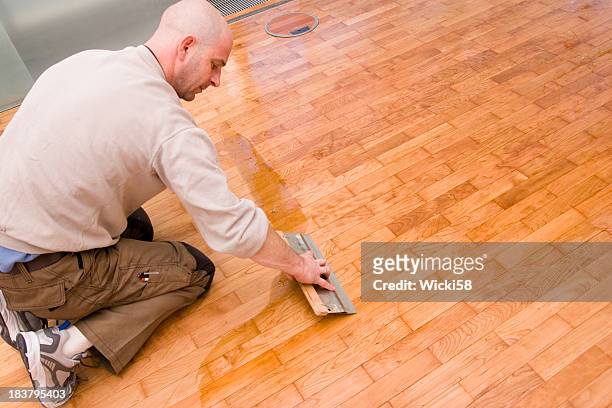 When it comes to weather, Texas is known for its extremes. From sweltering summers to unpredictable storms and high humidity levels, the Lone Star State presents unique challenges for maintaining the appearance and integrity of your floors. If you're a business owner or homeowner in Texas, you're likely familiar with the toll these weather conditions can take on your floors. But fear not, there's a solution: professional floor waxing.
The Texas Weather Conundrum
Texas weather can be a fickle friend to your floors. The scorching heat of summer, combined with the high humidity levels, can lead to warping, cracking, and discoloration of your flooring. Additionally, dust and debris carried by winds can scratch and mar the surface, making it look worn and tired.
Rain, often welcomed during dry spells, can bring its own set of challenges. Water damage, especially in high-traffic areas, can lead to costly repairs and even pose safety hazards.
The Protective Shield of Floor Waxing
So, what's the solution to combat Texas weather's impact on your floors? Floor waxing is the answer. This professional maintenance technique creates a protective shield over your flooring, effectively guarding against the elements.
Here's how floor waxing works its magic:
1. Moisture Resistance
Professional-grade floor wax forms a barrier that prevents moisture from penetrating the surface. This means that during those sudden Texas rainstorms, your floors remain safe from water damage, warping, and mold growth. No more worries about slippery or unsafe surfaces!
2. UV Protection
Texas sun can be relentless, causing your floors to fade and lose their luster over time. Floor wax acts as a UV barrier, shielding your floors from the harsh rays and preserving their color and shine.
3. Scratch and Dust Resistance
The dust storms that occasionally sweep through Texas can be brutal on your floors. Floor wax creates a smooth, resistant surface that makes it much harder for dust and debris to settle and scratch your floors.
Frisco Janitorial Service: Your Texas Floor Waxing Experts
When it comes to protecting your floors from the Texas weather challenge, you need a professional touch. That's where Frisco Janitorial Service comes in. With years of experience serving businesses and homeowners across Texas, they understand the unique requirements of your local climate.
Frisco Janitorial Service's expert team uses the highest-quality floor waxing products and techniques to ensure your floors stay safe and beautiful year-round. Whether you have hardwood, tile, or any other type of flooring, they have the expertise to keep it looking its best.
Take Action Today
Don't let the unpredictable Texas weather take a toll on your floors. Safeguard your investment, enhance the aesthetics of your space, and ensure the safety of your family or customers with professional floor waxing from Frisco Janitorial Service.
Ready to get started? Contact Frisco Janitorial Service today for a free consultation and quotation. Let them show you how floor waxing can make a world of difference for your Texas floors.
Contact Information for Frisco Brother's Janitorial Service
To Contact Us by Phone: 214-618-0816
To Email Us: friscobros2@outlook.com
---
Frisco Brothers Janitorial Service
Average rating:
0 reviews